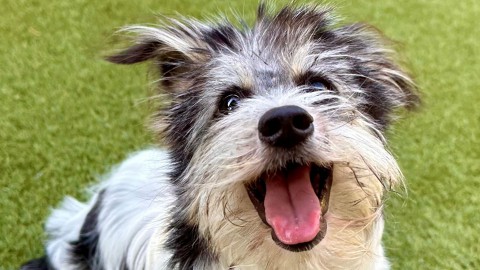 Adopt Willow
You're probably wondering why a dog this cute is still up for adoption. Well, Marin Humane is looking for a special home for Willow.
She needs a mostly single level home, and someone who enjoys a dog with unique needs. Willow has a neurological condition that causes her back legs to give way sometimes. Willow doesn't seem to mind this unique trait and it doesn't slow her down. It does mean stairs should be avoided in her home, if her legs give way on a staircase she could fall and injure herself. We've done some testing and even consulted a specialist. The condition is not painful to Willow. A conversation with our staff will give you more insight. We also think a home with dogs close to Willow's size will be best. Very big dogs will likely not be a good fit for Willow who is not stable on her legs
Willow's foster mom says: Willow is such a sweet, happy, loving dog. Since being is foster she has gotten stronger and seems to have less tumbles. She runs and plays with our resident dog, so we think being with another dog her size would be great for her! She LOVES people, LOVES dogs and would be great with kids too. She's not a barker, which is really nice. She loves to play fetch and will bring things back to you which is always fun. After some playtime, she settles down very nicely. She's doing well with housetraining - no accidents for a couple of weeks now, but still needs work on this.
She has certainly wiggled her way into our hearts. We know that Willow will make a lovely companion for the right home.
You can learn more and schedule a visit by calling 415-506-6225.
Thanks to our Visa Credit Cardholders!
Each year, at least 1% of our Visa Credit Card net income goes to support community groups like Marin Humane. Apply for your card today to shop smart and do good.