Just for kids
We want kids to learn the value of money, so Kirby Kangaroo has a club just for them to save money, earn prizes and watch their balances grow.
We deposit the first $5 for the child.
Great for your kids, grandkids, nephews and nieces up to age 12
A special Kirby teller desk at our branch
Kids earn great prizes as they reach savings levels
A special website with stories, and games
Bring your kids to our branch and their very own Kirby Kangaroo teller window. They can bring in their deposits and we'll help them update their savings passbook. And as their balances grow, they earn fun prizes: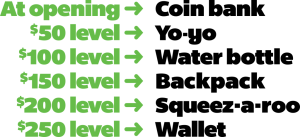 Stop by or call (888) 521-0135 to open accounts today.