Your home's equity is a handy tool
Our Home Equity Line of Credit is a handy way to finish projects, improve your home and pay off debt.
We offer equity lines up to $300,000 with no annual fee. We've also streamlined the process for faster funding and lower fees.
Call (888) 521-0135 to apply or apply here now.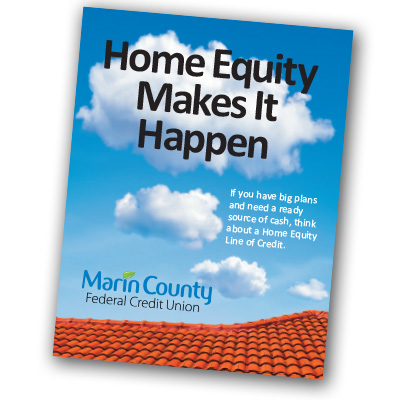 What home improvements pay for themselves?
According to HGTV.com, some home improvements can actually pay for themselves, allowing you to recoup all or most of their cost when you resell your home. Check out these improvements' average return on your investment here.
---
Mobile Check Deposit lets you deposit paper checks in a snap

Got a check to deposit? It's as easy as snapping a photo with your smartphone or tablet. To get started:
If you aren't already using our free Mobile BankingApp, download it now for Apple or Android devices here.
Open the app, click Deposit and follow prompts.
Endorse the check as you normally would, adding "For MCFCU Mobile Deposit Only".
Take pictures of the front and back.
Follow prompts to send your check.*
That's it — the funds will be deposited, and you saved gas and time. Questions? Call us at (888) 521-0135 and we'll be happy to help you.
Watch a video to learn more about Mobile Check Deposit here.
---
Attend a free webinar: "Who Needs an Estate Plan?"

Attend this no-cost webinar about Estate Plans. Topics covered include:
Why you should NOT list your trust as a primary beneficiary
Why you need a trust as opposed to a will
Selection process of naming a Power of Attorney
Date: June 17, 2021
Time: Noon to 1 pm via Zoom
RSVP to attend this no-cost webinar here
Presented by Tony Delumen, CLTC
MassMutual Northern California
True North Financial Group
Phone: 925-979-2354
Email: Tdelumen@financialguide.com
NOT A BANK OR CREDIT UNION DEPOSIT OR OBLIGATION * NOT FDIC OR NCUA-INSURED * NOT INSURED BY ANY FEDERAL GOVERNMENT AGENCY * NOT GUARANTEED BY ANY BANK OR CREDIT UNION MAY GO DOWN IN VALUE
Securities and investment advisory services offered through registered representatives of MML Investors Services, LLC, Member SIPC (www.SIPC.org) OSJ Office: 3003 Oak Road Suite 250 Walnut Creek, CA 94597. (925) 979-2300. SOC7695_Delumen 220 License OD47382
CRN202304-281035
---
Thank you for voting us a favorite three years running

Read a note from our CEO on being named a Marin IJ Honor Award Winner for the third year in a row.
My thanks to everyone who made us a winner in the Marin Independent Journal's 2021 Readers' Choice awards. In fact, this is our third year in a row to be named a winner.
We're proud that you're so pleased with our service.
We strive to be a community asset our friends and neighbors can trust, so it's gratifying when members take notice. Just recently our member Anita G. told us this after we helped her with an issue: "Talk about great service. I just got your call and it's handled! I love my Credit Union."
We love winning awards like this, but the most rewarding part of our work is the appreciation of members. We're here to help our members get the best value and access they need to their accounts.
We're a local financial institution focused on being the best choice for our members. Tell your friends about us; we'd love to welcome them to the family.
Elesja Callaghan
President/CEO
---
Help kids be app smart

The pandemic has driven millions of us online for a larger part of our day than ever before, including our children. Mobile devices are our gateway to the world, and provide opportunities to entertain, learn, save time, check in with friends but can also to mislead, trick and cause harm.
Kids can easily get into trouble simply because they're curious, love gaming, or are using age-inappropriate apps. They can quickly get into costly and unsafe situations they're not equipped to handle.
---