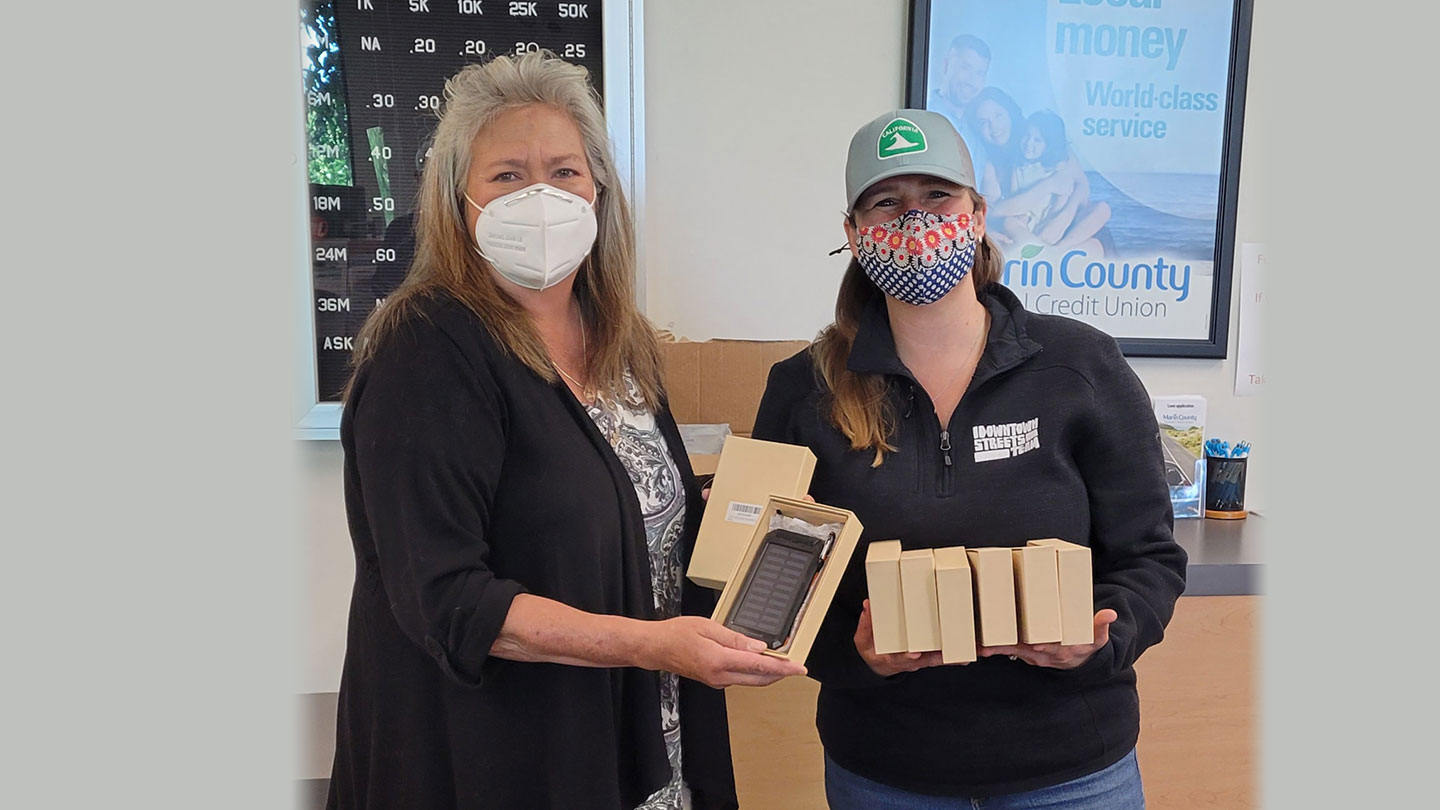 The power of a charge
Our CEO sees the hardworking Downtown Streets Team crews on her way to work in San Rafael many mornings. "I have always appreciated how their work makes our community look better," said Elesja Callaghan, Marin County Credit Union President/CEO.
In researching Downtown Streets Team, she learned that their Street Team Members are volunteers who are homeless or at-risk of becoming homeless. They agree to complete tasks, be held accountable and work well with the entire team. In exchange, Team Members receive a non-cash stipend to help cover their basic needs while taking advantage of case management and employment services to find housing and a job. You may be familiar with their bright purple "Put Your Change To Work" donation meters around downtown San Rafael.
The power of a charge
A fully charged phone is something many take for granted. But as DST's Director of the North Bay Karen Strolia told us, this has been nearly impossible for Team Members with libraries and coffee shops closed during the pandemic. Being unable to have charged phones meant missed doctor appointments, case management became harder, and families were concerned.
Downtown Street Team's ultimate goal is to transition Team Members into employment because having a job restores hope and opens the door to other opportunities. Their model is structured to be a one-year transitional program into permanent housing and employment.
Thanks to our Visa Credit Card's Good Plastic donation program, we were able to purchase and donate 20 solar-powered phone and device chargers for DST Team Members who are actively working on goals with Outreach Case Managers.
We are grateful for the work Downtown Streets Team does in San Rafael. Please consider making a donation to support their work.
Thank you to our cardholders
Thanks to our Visa Credit Cardholders for making this donation possible. Marin County CU donates 1% of its credit card net income to support important local organizations.